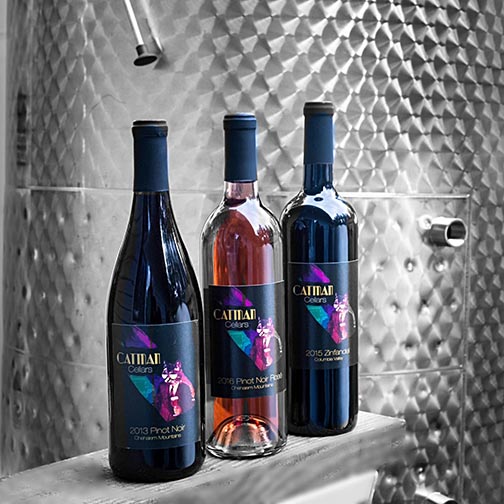 Catman Cellars Wines
At Catman Cellars we believe wine is more than a beverage; it is a catalyst for the admirable human traits of sharing, socializing and celebration. Just as every wine has its own structure and personality, every wine lover finds ways to appreciate wine that are uniquely personal.
We invite you to try these wines, all special to us, and hope they will become favorites of yours.
Chehalem Mountain
This Rose is blessed with a signature bouquet of fresh flowers and just-picked strawberries, with flavors of succulent peaches and red berries.
2017 Sauvignon Blanc    $28
Willamette Valley
A nose of bright tropical fruits with complex pineapple, passion fruit and citrus flavors, and a long, clean, balanced finish.
Rattlesnake Hills, Columbia Valley
Loaded with dark fruit flavors as blackberry, plum, and black cherry, tempered with milk chocolate, cocoa powder, leather and hints of sweet tobacco.
Rattlesnake Hills, Columbia Valley
A lush, inky beauty with black fruit, black pepper, blackberries, blueberries, spice, licorice and dark chocolate.
Yamhill-Carlton
A brisk white wine with citrus, melon, pear and apple.
Chehalem Mountains
Aged in French oak, it yields aromas and flavors of fruit, spice, clove and vanilla. Medium acid and tannins, smooth finish.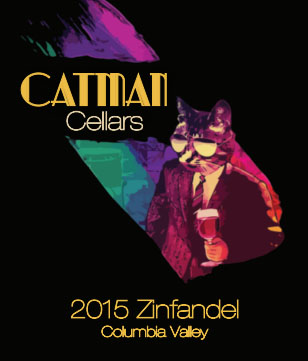 Rattlesnake Hills, Columbia Valley
Full bodied wine with notes of fruit, spice, dark cherry and pepper.
2016 Cabernet Franc    $32
Columbia Valley
Rich and robust with notes of dark cherry, plum and spice.
2017 Petite Sirah / Zinfandel Ruby (Port Style)    $38
Columbia Valley
All of the sumptuous richness of these two rich, robust wines with the touch of sweetness that makes Port an exquisite finale for a splendid meal.
Yamhill-Carlton
Bright floral bouquet and crisp flavors of citrus, green apples and pear. A perfect accompaniment to seafood.
2015 Cabernet Sauvignon    $32
Rattlesnake Hills, Columbia Valley
Rich and polished with essence of blackberry, tobacco with a soft and smooth peppery finish.
Columbia Valley
The bold, full-bodied character Zinfandel aficionados prize; big fruit, spice, cherry, and a peppery finish.
Columbia Valley
Blackberry, vanilla, leather, cranberry, and cloves combine in a rapturous merger with a rich lingering finish.
The Northwest U.S. is gaining international recognition for the excellence of its soil and climate for growing many of the world's greatest wine grapes. In these brief videos, two vintners who grow top-quality fruit for us explain why our region's reputation for winemaking excellence continues to grow.
Umpqua Valley AVA
Over 150 soil types are derived from a mix of metamorphic, sedimentary and volcanic rock. The valley floor levels have mostly deep alluvial or heavy clay materials, while the hillsides and bench locations have mixed alluvial, silt or clay structures – all typically excellent for wine growing.
Rattlesnake Hills AVA
Fine, shallow silt loam soils left over from the ice age are the norm here. Sandier soils surround the AVA, but the silt loam on top of the rock and flood formations here provide the perfect soil structure for quality grapes.
Chehalem Mountains AVA
This AVA combines uplifted sedimentary seabeds, lava flows, and wind-blown silt, resulting in some of the most diverse soils in wine country.
Willamette Valley AVA
All three important hillside soil types are represented: basaltic, ocean sedimentary and loess (blown lake bed sediment), the predominant soil on the northern face of the Chehalem Mountains. Within the almost 70,000 acres of this AVA are over 1,600 acres of grapes, grown in over 100 vineyards, and 31 wineries.
2017 Pinot Gris 

Bronze Medal
NW Food & Wine Festival, 2018
2016 Sauvignon Blanc 

Silver Medal
Astoria Warrenton Crab, Seafood & Wine Festival, 2017
2016 Pinot Noir Tressler 

Gold Medal
World Wine Championships, 2019
First Taste Oregon Wine Competition, 2019
Silver Medals
Astoria Warrenton Crab, Seafood & Wine Festival, 2019
Newport Seafood & Wine Festival, 2019
SIP! McMinnville Wine & Food Classic, 2019
Portland Seafood & Wine Festival, 2019
Bronze Medal
NW Food & Wine Festival, 2018
2016 Pinot Noir Yamhill-Carlton 

Silver Medals
SIP! McMinnville Wine & Food Classic, 2019
Portland Seafood & Wine Festival, 2019
Bronze Medal
NW Food & Wine Festival, 2018
2015 Pinot Noir 

Platinum Medal
The 19th Annual Wine Press Northwest Platinum Competition, 2018
Gold Medals
First Taste Oregon Wine Competition, 2018
Savor NW Wine Awards, Savor Cannon Beach Wine & Culinary Festival, 2018
Silver Medals
NW Food & Wine Festival, 2018
Great American International Wine Competition, 2018
Portland Seafood & Wine Festival, 2018
2013 Pinot Noir 

Bronze Medal
Northwest Food & Wine Festival, 2015
2017 Barbera 

PLATINUM Medal
Great American International Wine Competition, 2019
2016 Cabernet Sauvignon 

Silver Medals
Great American International Wine Competition, 2019
Astoria Warrenton Crab, Seafood & Wine Festival, 2019
SIP! McMinnville Wine & Food Classic, 2019
NW Food & Wine Festival, 2018
2015 Cabernet Sauvignon 

Silver Medals
NW Food & Wine Festival, 2018
Portland Seafood & Wine Festival, 2018
Savor NW Wine Awards, Savor Cannon Beach Wine & Culinary Festival, 2018
Bronze Medals
First Taste Oregon Wine Competition, 2018
Newport Seafood & Wine Festival, 2018
2014 Cabernet Sauvignon 

Silver Medal
Northwest Food & Wine Festival, 2015
Bronze Medal
First Taste Oregon Wine Competition, 2017
2016 Zinfandel 

Gold Medal
World Wine Championships, 2019
Bronze Medals
Great American International Wine Competition, 2019
Portland Seafood & Wine Festival, 2019
2015 Zinfandel 

Gold Medals
Astoria Warrenton Crab, Seafood & Wine Festival, 2018
First Taste Oregon Wine Competition, 2018
Silver Medal
Savor NW Wine Awards, Savor Cannon Beach Wine & Culinary Festival, 2018
Bronze Medal
Newport Seafood & Wine Festival, 2018
2014 Zinfandel 

Gold Medal
Northwest Food & Wine Festival, 2015
2012 Zinfandel 

Best of Show Red Wine
Oregon State Fair Wine Competition, 2014
Silver Medal
Willamette Valley Wine Competition, 2014
2016 Malbec

 Gold Medal
Portland Seafood & Wine Festival, 2019
Silver Medals
World Wine Championships, 2019
Newport Seafood & Wine Festival, 2019
SIP! McMinnville Wine & Food Classic, 2019
First Taste Oregon Wine Competition, 2019 
Bronze Medal
NW Food & Wine Festival, 2018
2016 Petite Sirah

 Bronze Medal
NW Food & Wine Festival, 2018
2015 Barbera 

Silver Medals
Global Wine Awards, 2018
Great American International Wine Competition, 2018
Savor NW Wine Awards, Savor Cannon Beach Wine & Culinary Festival, 2018
2015 Tempranillo 

Bronze Medals
First Taste Oregon Wine Competition, 2018
Savor NW Wine Awards, Savor Cannon Beach Wine & Culinary Festival, 2018
Silver Medal
Oregon Wine Experience, 2017
2014 Tempranillo 

Gold Medal
Oregon Wine Experience, 2016
Bronze Medal
SIP Classic, 2016
2012 Barbera 

Gold Medal
Willamette Valley Wine Competition, 2014
Bronze Medal
Oregon State Fair Wine Competition, 2014
2012 Malbec 

Gold Medal
Oregon State Fair Competition, 2014
Silver Medal
Willamette Valley Wine Competition, 2014
2012 Cabernet Franc 

Silver Medal
Willamette Valley Wine Competition, 2014