Micro-Batch Wines With Big Character
Building on Oregon's Heritage of Wine Excellence
Catman Cellars is proud to contribute to Oregon's growing reputation for excellence in a variety of wines. Not just white wines and Pinot Noirs, but also fine bold reds associated with some of the most renowned wine regions of the world. Many of our first-time customers are surprised that an Oregon winery can produce such a wide variety of wines of such high quality.
The reason is that vineyards producing exceptional fruit flourish within a few hours of our winery in Newberg, Oregon. We carefully source our grapes from the best of those vineyards to yield the classic characteristics that distinguish each varietal.
In the 1970s a handful of pioneers inspired the winemaking world by proving that Oregon deserved a slot on the list of the world's esteemed wine regions. Catman Cellars pays tribute to those intrepid visionaries by continuing to build on their proud legacy.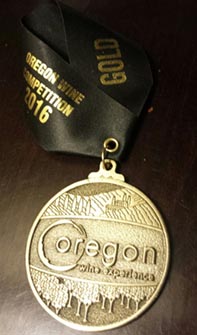 Among the many awards our wines have won are the Gold and Silver medals we received for our Tempranillo from the Oregon Wine Experience, one of the largest wine competitions on the U.S. West Coast judged by a distinguished panel of experts. Here's a brief video about this event, which is the signature fundraiser for Asante's Children's Miracle Network and other health care programs supported by the Asante Foundation.